ADAPTER WALL PLUG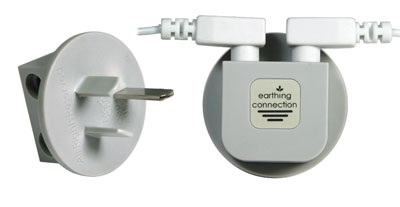 ADAPTOR PLUG WHAT IS AN AUSTRALIAN EARTHING ADAPTER PLUG?
The Australian Earthing Adapter Plug (hereafter called an Adapter Plug) looks similar to a normal three-pin electrical plug that plugs into a power point.  However it has no live and no neutral pin.  The only functional pin is the metal earth pin which makes connection with the bottom position of the wall socket which is attached to "Earth", that is the ground outside.  The Adapter Plug has two sockets to insert Earthing product bungs, which allows you to connect two Earthing products (sheets, mats, bands, patches) to an Australian power point wall outlet.  So it is essentially a double adapter specifically designed for Earthing Products in Australia.
SPECIFICATIONS:
The Adapter Plug is a mounded plastic device that allows you to plug your Earthing Products and Accessories into your existing power point rather than having to hammer the Ground Rod into the soil outside and run a long cord through a window or door to inside your home or workplace.  It is essentially a double adaptor for Earthing Products.  Note that the Earthing products are not electrical and use no electricity.  They simply allow your Earthing products to conveniently access the existing wiring system of your home or work place.  All of our products have built in protection resistance so they are completely safe.
The Australian Adapter Plug is also suitable for use in New Zealand, Fiji, Argentina and Papua New Guinea, and surrounding pacific islands.
GETTING STARTED:
Insert the bung of your Earthing Product cord or your Earthing Accessory cord into one of the bung holes on the Adapter Plug, and then plug the Adapter Plug into your wall power point.  Snap the other end of the cord into your Earthing Product or Earthing Accessory and you ready to use your Earthing device.
Australian mains power outlets are almost always properly earthed.  However, if you are not sure about the wiring integrity of your home or work place, or you live in outback country areas or there has been extensive renovation work done over many years, it would be advisable to check your outlets using the Socket Tester (Available from our website).  This will verify that your wiring configuration is correct.  A Product Tester is also available from our website to test your Earthing device to confirm it is working correctly.
GET INSTANT ACCESS to FREE WELLNESS NEWSLETTERS
I supply WELLNESS Newsletters to my patients and all other parties who are interested in optimizing their health and wellness potential. ANTRAC WELLNESS Newsletters are jam-packed full of current powerful health-related information to help you attain optimal wellness and vitality and start living life to the full. Did I mention that the Newsletters are FREE? To confirm my promise of supplying vital information on all health issues, CLICK on "Wellness Newsletters" Navigation Bar above to sample the rich contents of the Newsletters.
If YOU haven't already signed up and you would like to receive future ANTRAC WELLNESS Newsletters every 3 weeks hot off the press to your inbox, just click the Opt-In link below and supply your Email Address, First Name and Last Name. Subscription is absolutely FREE. How easy is that? I do NOT send out SPAM or supply your details to anyone else.