EARTHING PRODUCTS – BOOKS and CDs
EARTHING BOOK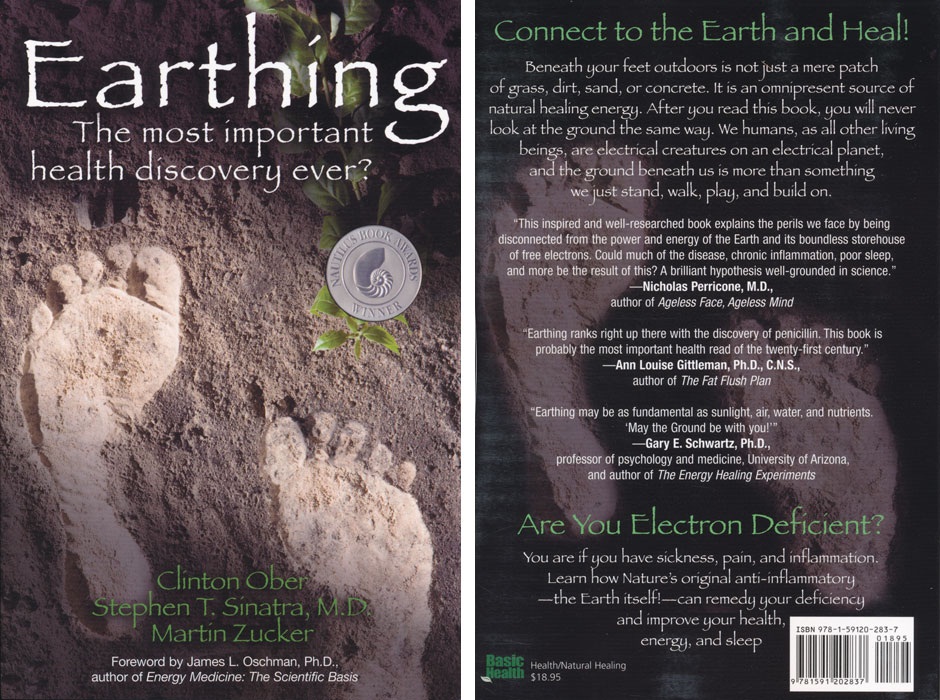 EARTHING BOOK
WHAT IS THE EARTHING BOOK?
The book "
Earthing.  The most important health discovery ever?
" discusses the most important health finding of our times.  The solution for chronic inflammation, regarded as the cause of most common modern diseases, has been identified! And it is not blueberries. It is something right beneath our feet-the Earth itself!
Throughout most of evolution humans walked barefoot and slept on the ground, largely oblivious that the surface of the Earth contains limitless healing energy. Science has discovered this energy as free-flowing electrons constantly replenished by solar radiation and lightning. Few people know it, but the ground provides a subtle electric signal that maintains health and governs the intricate mechanisms that make our bodies work-just like plugging a lamp into a power socket makes it light up. Modern lifestyle, including the widespread use of insulative rubber or plastic-soled shoes, has disconnected us from this energy and, of course, we no longer sleep on the ground as we did in times past.
Earthing introduces the planet's powerful, amazing, and overlooked natural healing energy and how people anywhere can readily connect to it. This eye-opening book describes how the physical disconnect with the Earth creates abnormal physiology and contributes to inflammation, pain, fatigue, stress, and poor sleep. By reconnecting to the Earth, symptoms are rapidly relieved and even eliminated and recovery from surgery, injury, and athletic overexertion is accelerated.
This never-before-told story-filled with fascinating research and real-life testimonials- chronicles a discovery with the potential to create a global health revolution.
SPECIFICATIONS:
The book is 15 cm wide x 23 cm high and contains 260 pages of wisdom.  The ISBN is 978-1-59120-283-7.  Copyright 2010 by Clinton Ober, Stephen T. Sinatra, and Martin Zucker.
GETTING STARTED:
Purchase the book and be prepared to be stunned by the recent incredible findings of Clint Ober and other researchers.
PRECAUTIONS:
Once you start Earthing and discover for yourself how incredible you feel, you may become addicted to Earthing yourself daily. So be warned!
EARTHING MP3 CD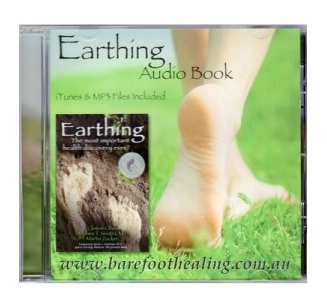 AUDIO BOOK MP3 CD
The "Earthing"  Book is now available to listen to in the comfort of your home, car, travelling or in the office, etc.  The Earthing Audio Book comes in MP3 CD format and includes an itunes audio book file to import to your  ipod, iphone or ipad.
Please note that this is in MP3 format which means you will need a compatible MP3 CD player, however, it can be run through your computer, DVD player, most later model car stereo systems or transfered to any other MP3 compatible device.
The Earthing Audio Book is a great way to learn about the incredible healing and relaxing power of Earthing!
EARTHING BOOK and MP3 CD PACK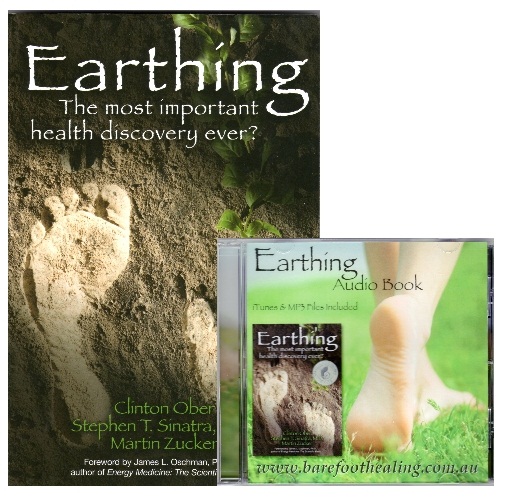 Read the book and listen to the CD – a great combination or give one away.
EARTHING BOOK + MP3 CD PACK
GET INSTANT ACCESS to FREE WELLNESS NEWSLETTERS
I supply WELLNESS Newsletters to my patients and all other parties who are interested in optimizing their health and wellness potential. ANTRAC WELLNESS Newsletters are jam-packed full of current powerful health-related information to help you attain optimal wellness and vitality and start living life to the full. Did I mention that the Newsletters are FREE? To confirm my promise of supplying vital information on all health issues, CLICK on "Wellness Newsletters" Navigation Bar above to sample the rich contents of the Newsletters.
If YOU haven't already signed up and you would like to receive future ANTRAC WELLNESS Newsletters every 3 weeks hot off the press to your inbox, just click the Opt-In link below and supply your Email Address, First Name and Last Name. Subscription is absolutely FREE. How easy is that? I do NOT send out SPAM or supply your details to anyone else.