EARTHING GROUNDING ROD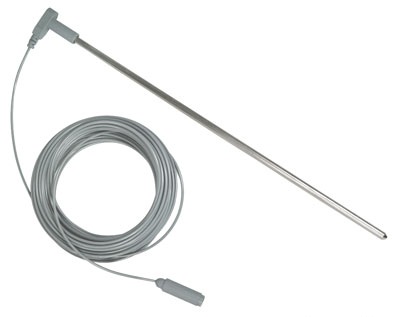 GROUNDING ROD
WHAT IS AN AUSTRALIAN EARTHING GROUNDING ROD?
If you don't have access to a properly earthed mains outlet, an Australian Earthing Grounding Rod (hereafter called a Grounding Rod) allows you to easily connect your Earthing Products to the earth, via a window or doorway at your home or workplace, or anywhere else you wish to use your Earthing Products.
SPECIFICATIONS:
The Grounding Rod is a 0.3 m (1 ft) long stainless steel rod with a 13.5 metre (40 ft) extension cord.  The stainless steel Grounding Rod is pushed into the ground outside, thereby making a good electrical connection to the Earth.  The cord is only 2 mm in diameter so it can usually be run through the edge of a window frame with the window closed.  Grounding Rods are compatible with all Earthing Products.  The 13.5 metre (40 ft) cord is suitable to Earth most 2 storey homes.
GETTING STARTED:
Simply push the Grounding Rod into some moist soil outside the home or work place where you wish to operate your Earthing Products.  It is essential that the ground is kept moist.  Watering the ground weekly will ensure that the earth's conductivity allows the free electrons to readily flow into your Earthing Products.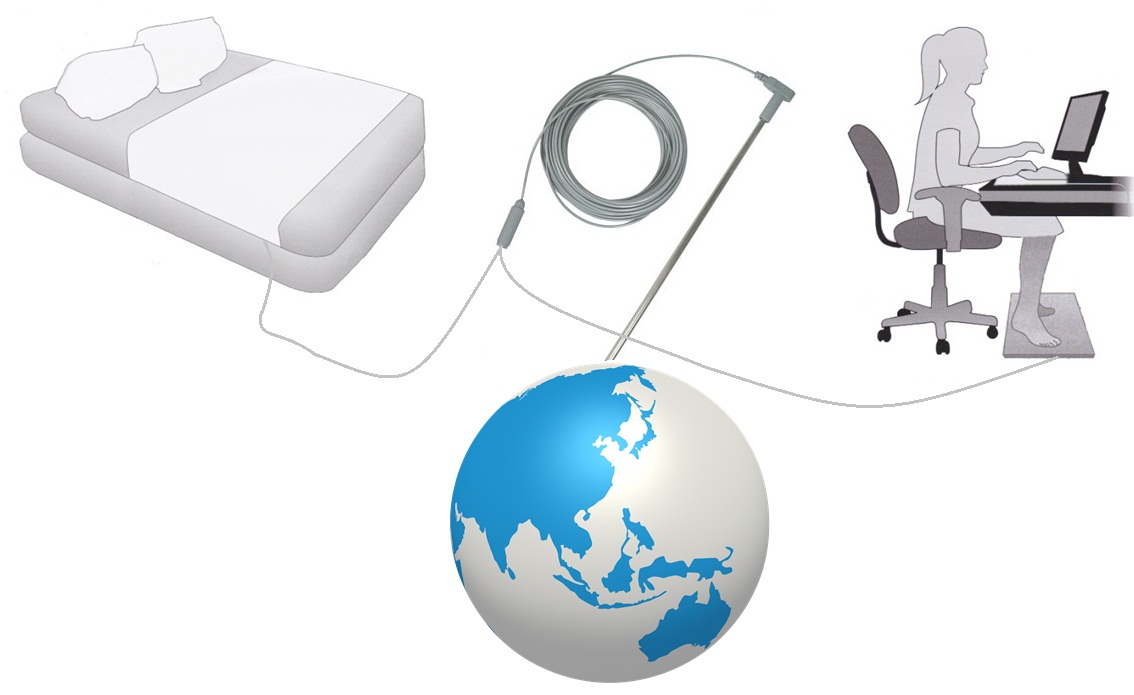 This YouTube video discusses how you can Earth your Earthing Substitute Products when there is NO Earth pin on the power point outlet. This YouTube Earthing Video was produced by EARTHING HEAVEN. You can use Earthing naturally OUTSIDE, or you can use Earthing Substitute Products INSIDE, in the comfort of your own home or work place.
Earthing or Grounding involves allowing the naturally occurring healing Free Electrons from the Earth to flow into your body to neutralize damaging Free Radicals which cause inflammation, pain and disease. Earthing Substitute Products (ESP's) allow the Free Electrons to flow from the Earth via the wiring in your house or office into these Earthing Substitute Products. This video is about fitting Earthing or Grounding Fitted Sheets and Half Sheets in locations that do not have an Earth pin in the wall socket. This video shows how to use the Grounding Rod to connect to the healing power of the Earth easily, so that the benefits can still be derived, for example in third world countries where no Earth pin is included in the power point. This video pertains specifically to Bali, but the principal is the same for any country.
For more information on the theory of Earthing and Earthing Substitute Products (ESP's) see my YouTube Video at http://youtu.be/rRNzFkPq8iU
To see a YouTube Video on how Earthing is splendid for treating leg ulcers see my YouTube video at  http://youtu.be/Vhb4Zy4Uu_8
If you would like to be kept informed about Earthing PLEASE CLICK THIS LINK and then CLICK the "Subscribe" button at my YouTube Channel.
GET INSTANT ACCESS to FREE WELLNESS NEWSLETTERS
I supply WELLNESS Newsletters to my patients and all other parties who are interested in optimizing their health and wellness potential. ANTRAC WELLNESS Newsletters are jam-packed full of current powerful health-related information to help you attain optimal wellness and vitality and start living life to the full. Did I mention that the Newsletters are FREE? To confirm my promise of supplying vital information on all health issues, CLICK on "Wellness Newsletters" Navigation Bar above to sample the rich contents of the Newsletters.
If YOU haven't already signed up and you would like to receive future ANTRAC WELLNESS Newsletters every 3 weeks hot off the press to your inbox, just click the Opt-In link below and supply your Email Address, First Name and Last Name. Subscription is absolutely FREE. How easy is that? I do NOT send out SPAM or supply your details to anyone else.