SPLITTER (DOUBLE ADAPTER)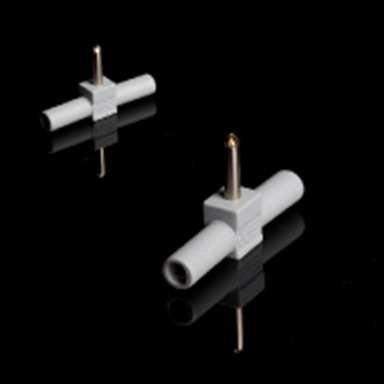 SPLITTER WHAT IS AN AUSTRALIAN SPLITTER (DOUBLE ADAPTER)?
An Australian Splitter (Double Adapter) (hereafter called a Splitter) allows you to easily connect three or more Earthing Products to an Adapter Wall Plug inside, or two Earthing Products to your Grounding Rod outside.  For example, you could operate a Fitted Sheet and a Universal Mat and a Mouse Pad from the one power outlet using one Adapter Wall Plug and two Splitters.
SPECIFICATIONS:
The Splitter is made of moulded plastic, and has a "T" configuration, and is 6 cm long with a female Earthing bung hole at each end, and the male bung at the middle – (See photograph above).
GETTING STARTED:
Note that if you need connection for two Earthing Products from the one single power outlet, an Adapter Wall Plug will suffice as it has two female bung holes.  If you wish to attach three (3) Earthing Products to the one single power point outlet, then you require one Adapter Wall Plug and two Splitters, because the first Splitter blocks access to the second female bung hole of the Adapter Wall Plug.  To connect four Earthing Products to the same single power outlet you will require three Splitters, and so on.  If you have a double power point outlet then alternatively, you could purchase two Adapter Wall Plugs.
GET INSTANT ACCESS to FREE WELLNESS NEWSLETTERS
I supply WELLNESS Newsletters to my patients and all other parties who are interested in optimizing their health and wellness potential. ANTRAC WELLNESS Newsletters are jam-packed full of current powerful health-related information to help you attain optimal wellness and vitality and start living life to the full. Did I mention that the Newsletters are FREE? To confirm my promise of supplying vital information on all health issues, CLICK on "Wellness Newsletters" Navigation Bar above to sample the rich contents of the Newsletters.
If YOU haven't already signed up and you would like to receive future ANTRAC WELLNESS Newsletters every 3 weeks hot off the press to your inbox, just click the Opt-In link below and supply your Email Address, First Name and Last Name. Subscription is absolutely FREE. How easy is that? I do NOT send out SPAM or supply your details to anyone else.