UNIVERSAL MAT COVER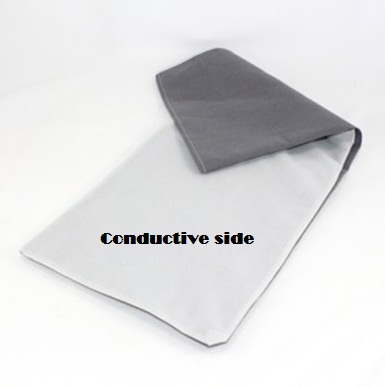 UNIVERSAL MAT COVER
WHAT IS THE UNIVERSAL MAT COVER?
The Conductive Fabric Cover for the Universal Mat offers broad flexibility.  The covered Universal Mat can be used anywhere in the house or work place.  You can slip the mat into the cover, for use while sitting in your favorite chair or lying on the couch or, alternatively, as a sleep system for your bed.  It is recommended that this Universal Mat Cover be hand washed only.
NOTE that the Universal Mat is NOT included when you purchase the Universal Mat Cover.
SPECIFICATIONS:
The Universal Mat measures 25 cm x 68 cm.  The Universal Mat Cover is designed to fit snuggly over the Universal Mat.
The Universal Mat Cover offers a hygienic option, so that you can use the uncovered Universal Mat to Earth your feet, and then cover the Universal Mat if you wish to be Earthed in your bed, for example.
GETTING STARTED:
Simply place the Universal Mat Cover over the Universal Mat, and then follow the instructions in GETTING STARTED in the Universal Mat section above.
Your feet or body should be placed on the conductive light silver-grey side of the cover.
MEDICAL ADVISORY:
It is strongly recommended that individuals consult their Doctor for advice and a medication monitoring routine when they begin sleeping earthed, if they are taking any medication to:
•thin the blood,
•regulate blood sugar,
•control blood pressure, or
•regulate thyroid hormone levels.
For more medical information CLICK THIS LINK.
LIGHTNING ADVISORY:
Although it is unlikely that you will be hit by lightning, it is recommended to follow standard lightning safety guidelines as directed by the National Weather Service and disconnect your Earthing devices during lightning and thunderstorms.
GET INSTANT ACCESS to FREE WELLNESS NEWSLETTERS
I supply WELLNESS Newsletters to my patients and all other parties who are interested in optimizing their health and wellness potential. ANTRAC WELLNESS Newsletters are jam-packed full of current powerful health-related information to help you attain optimal wellness and vitality and start living life to the full. Did I mention that the Newsletters are FREE? To confirm my promise of supplying vital information on all health issues, CLICK on "Wellness Newsletters" Navigation Bar above to sample the rich contents of the Newsletters.
If YOU haven't already signed up and you would like to receive future ANTRAC WELLNESS Newsletters every 3 weeks hot off the press to your inbox, just click the Opt-In link below and supply your Email Address, First Name and Last Name. Subscription is absolutely FREE. How easy is that? I do NOT send out SPAM or supply your details to anyone else.