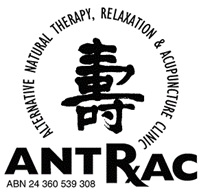 REFUND, RETURN and REPAIRS POLICY
This is the web site of theNaturalMedical HealthWell.com
We trade as ANTRAC Acupuncture Clinic (ABN 24 360 539 308) and
EARTHING HEAVEN (ABN 24 360 539 308).
Refund, Return and Repairs Policy
This is the Refund, Repair and Return Policy of ANTRAC Acupuncture Clinic and EARTHING HEAVEN, and applies where you make a purchase online OR from the Clinic in Middle Ridge, Toowoomba, 4350, QLD, Australia.  We want our customers to be completely satisfied with the purchase of their Wellness product(s).
We therefore recommend that you read our Refund, Return and Repairs Policy prior to making a purchase from ANTRAC Acupuncture Clinic or from the EARTHING HEAVEN website Online, so that you are familiar with our policy on refunds, returns and repairs and your rights under the Australian Consumer Law.
We recommend that you immediately inspect any goods that we deliver to you or that you purchase from the Clinic, to ensure you are completely satisfied with the goods, including that the goods are of acceptable quality, and that they match the description we have provided to you.
Change of Mind
Please choose carefully as refunds are not provided where you have simply changed your mind, made a wrong selection or simply found the goods cheaper elsewhere. We recommend that you carefully preview any orders before adding them to your shopping cart and proceeding with your order.
Goods Damaged in Transit
If any goods purchased though our website arrive damaged, please contact our Staff as soon as possible on (07) 4636 6100. We will arrange to have the damaged goods returned to the Clinic and either arrange for a replacement of the goods or refund the price to you. Damaged goods must be returned in the condition received by you with all original packaging, accessories and/or manuals.
Changes to Order
Any changes required after an order has been placed must be made directly to Staff at (07) 4636 6100. Correction cannot be guaranteed before the original order is shipped.  
Backorders
If you have ordered several products and one or more products are on backorder, the entire shipment will be put on hold until all items can be shipped together.  If you wish to have the available items dispatched before the backordered items arrive you must notify Staff on 07 4636 6100 immediately after being made aware of the backorder status. If the backordered items are shipped separately, additional shipping charges may apply.
Product Guarantee
In regards to guarantees we are keeping in unison with the US and offer a 30 day satisfaction guarantee and a 90 day Manufacturer's warranty.  After this time most faults will be the result of the end user, not following care instructions.  After 90 days all cases will be looked at individually.
Returns
EARTHING HEAVEN wants all customers to be entirely satisfied with your purchase. If any product was purchased from our Website and you are not happy with it, you may return the product within 14 days from the purchase date.  You may return goods we have delivered to you by mail after initially contacting our Staff on (07) 4636 6100. Goods purchased from the Clinic may be returned directly to the Clinic. It is wise to ring the Clinic first on (07) 4636 6100 to ensure that Staff will be available to promptly process the returned goods for you. A staff member will assist you with any returned item. Returned items must be returned in perfect condition, and free from blemishes, marks, stains or damage along with the original packaging and must include all cables, accessories, and documentation, including user manuals and warranties.  A copy of the original purchase invoice must also be included. No returns will be accepted if any part is not present. All returned items will incur a 20% postage and handling fee. The item will be inspected before any refund is made. Postage costs must be incurred by the purchaser.
Repairs
Faulty goods returned for repair will be assessed and/or repaired within a reasonable time. This may include inspecting the faulty goods, arranging for the goods to be sent for repair, or providing you with a replacement.  You may be provided with a likely repair time, that may vary due to reasons beyond our control.  Where goods are assessed to have been damaged by misuse or accident, you may be required to pay labour, assessment and/or freight fees. There may be incidences where your rights under the Australian Consumer Law or the manufacturer's warranty do not apply. We may provide you with an indicative fee.  That fee may vary due to reasons beyond our control.  In some circumstances, goods presented for repair may be replaced by goods of the same type rather than being repaired. Replacement parts may be used to repair the goods.  It is essential that you keep your proof of purchase, for example your receipt.
Refunds
All approved refunds will be made by us via the method of payment you used to make your online purchase. Refunds will normally be processed within seven (7) days, except where outcomes are beyond our control.
Obtaining Service
You will be required to describe the faulty product that needs service and the nature of the problem. All repairs and replacements must be authorized in advance. Service options, parts availability and response times will vary. You must bear the cost of delivery of the faulty product to ANTRAC at 216 Ramsay St, Toowoomba, QLD, 4350 as per our instructions.
Delivery Charges
Where goods have been damaged in transit by courier or postage, any shipping costs to return the goods to us will be borne by the purchaser.
If you have any questions or concerns relating to your Order or to the Refund, Return & Repair Policy, please immediately contact our Staff members on (07) 4636 6100.
Changes to our Refund Policy
If we decide to change our refund policy, we will post those changes on this page, and update the Refund Policy modification date below.
This Refund Policy was last modified on 17 February 2013.
Contacting Us
If there are any questions regarding this Refund Policy you may contact us using the information below.
216 Ramsay Street, Middle Ridge,
Toowoomba, Queensland, 4350
Australia.
louis.gordon@bigpond.com
(07) 4636 6100 or +617 4636 6100