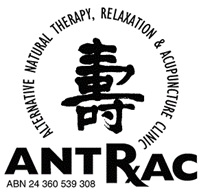 TERMS and CONDITIONS
This is the web site of theNaturalMedical HealthWell.com
We trade as ANTRAC Acupuncture Clinic (ABN 24 360 539 308) and
EARTHING HEAVEN (ABN 24 360 539 308).
TERMS and CONDITIONS
Copyright
All of the content on this Website is and remains the property of ANTRAC Acupuncture Clinic.
International Use of this Website
Even though this Website may be accessible worldwide, we do not deliver to locations outside of Australia. All parties who choose to access this Website from other locations, do so on their own initiative and are responsible for compliance with local laws.
Warranties
All of the material and information and product description presented on this Website has been compiled from numerous sources and is subject to modification without notice. EARTHING HEAVEN makes no claim whatsoever regarding the completeness, quality, or competence of the Website or its content. By spending time on this Website, you assume the risk that the content on this Website may be incomplete, inaccurate or may not be suitable for your requirements.
EARTHING HEAVEN is not responsible for any damages of any kind that may result to the user from using materials on this Website.   Further, EARTHING HEAVEN is not responsible for any damages of any kind that may result from using any of the products described on this Website.
The inclusion of any material referenced or provided on this Website does not imply an endorsement of the material.
It is possible that inaccuracies or errors exist on this Website. Further, there is a possibility that unauthorized additions, deletions, and alterations could be made by third parties to materials on this Website.  Although EARTHING HEAVEN tries to confirm the integrity and the correctness of the materials presented on this Website, we make no guarantees about their integrity and correctness. Before relying on the integrity of all material presented on this Website, check with EARTHING HEAVEN that the information you are relying upon is accurate.
User's Acknowledgment and Acceptance of Terms
EARTHING HEAVEN ("Us" or "We") provides this Website to you, subject to your compliance with all the terms and conditions referred to herein (the "Terms of Use").  We reserve the right to modify these Terms of Use as required without notice to you. You acknowledge and accept that it is your responsibility to review these Terms of Use occasionally to familiarize yourself with any changes. Your continued use of this Website after such changes will constitute acceptance of the modified Terms of Use and agreement by you to be bound by the altered Terms of Use.
Conduct and behaviour whilst using this Website
Your use of the Website is subject to all applicable laws and regulations, and you are solely responsible for your communications through the site. While posting information on this Website, you agree that you will not upload, share, post, or otherwise distribute or facilitate distribution of any content, including text, communications, software, images, sounds, data, or other information, that:
a. is unlawful, defamatory, libellous, deceptive, threatening, abusive, harassing, fraudulent, invasive of another's privacy, contains explicit or graphic descriptions or accounts of sexual acts, or otherwise violates our rules or policies;
b. victimizes, harasses, degrades, or intimidates an individual or group of individuals on the basis of religion, gender, sexual orientation, race, ethnicity, age, or disability;
c. infringes on any patent, trademark, trade secret, copyright, right of publicity, or other proprietary right of any party;
d. constitutes unauthorized or unsolicited advertising, junk or bulk email (also known as "spamming"), chain letters, any other form of unauthorized solicitation, or any form of lottery or gambling;
e. contains software viruses or any other computer code, files, or programs that are designed or intended to disrupt, damage, or limit the functioning of any software, hardware, or telecommunications equipment or to damage or obtain unauthorized access to any data or other information of any third party; or
f. impersonates any person or entity, including any of our employees or representatives.
Third Party Sites and Information
This site may allow you to link to other sites on the Internet or otherwise include references to information, documents, software, materials and/or services provided by other parties. These sites may contain information or material that some people may find inappropriate or offensive. These other sites and parties are not under our control, and you acknowledge that we are not responsible for the accuracy, copyright compliance, legality, decency, or any other aspect of the content of such sites, nor are we responsible for errors or omissions in any references to other parties or their products and services. The inclusion of such a link or reference is provided merely as a convenience and does not imply endorsement of, or association with, the site or party by us, or any warranty of any kind, either express or implied.  We neither endorse nor assume any liability for the contents of any material uploaded or submitted by third party users of the site.
Intellectual Property Information
For purposes of these Terms of Use, "content" is defined as any information, data, communications, software, photos, video, graphics, music, sounds, and other material and services that can be viewed by users on our site. This includes message boards, chat, and other original content.
By accepting these Terms of Use, you acknowledge and agree that all content presented to you on this site is protected by copyrights, trademarks, service marks, patents or other proprietary rights and laws, and is the sole property of EARTHING HEAVEN. You are only permitted to use the content as expressly authorized by us or the specific content provider. Except for a single copy made for personal use only, you may not copy, reproduce, modify, republish, upload, post, transmit, or distribute any documents or information from this site in any form or by any means without prior written permission from us or the specific content provider, and you are solely responsible for obtaining permission before reusing any copyrighted material that is available on this site. Any unauthorized use of the materials appearing on this site may violate copyright, trademark and other applicable laws and could result in criminal or civil penalties.
Store Hours
Customer service by telephone is available Monday to Friday between the hours of 9:00 AM and 5:00PM Australian Eastern Standard Time on (07) 4636 6100.
Purchases online are normally completed within 7 working days.
Changes to our Terms and Conditions
If we decide to change our Terms and Conditions Policy, we will post those changes on this page, and/or update the Terms and Conditions Policy modification date below.
This Terms and Conditions Policy was last modified on 22 August 2012.
Contacting Us
If there are any questions regarding this Terms and Conditions Policy you may contact us using the information below.
216 Ramsay Street, Middle Ridge,
Toowoomba, Queensland, 4350
Australia.
louis.gordon@bigpond.com
(07) 4636 6100 or 617 4636 6100